After 26 grueling hours of labor, Joseph Paul Spratt made his way into the world.

At 1:30 am on 8/8/00, Andrea Coope went into full labor. Waiting until she could no longer stand it, she finally made her way to St. Charles Medical Center at 6:00pm.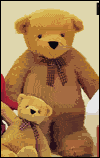 Through the night she labored hard, boyfriend and baby's father, Joe, at her side. Also present were Joe's dad, mom and step-mom, her mother, Hollie and sister Diana, Diana's boyfriend AJ and Diana's son, Caleb..and of course, me.
Being the trooper that she is, exhausted to the point of tears, she was finally able to push at about 3 a.m. on 8/9/00, 25 1/2 hours

after her labor started!
The family took turns wiping her forehead, rubbing her back, making her as comfortable as possible, eating when there was time, pacing the halls for many hours.
At 3:45 a.m. she was finally dialated to the point she could push hard. Hardly having the energy anymore, she pushed hard for an hour, showing her true strength.

At 4:50 a.m. Joseph Paul peeked into the world with a few tiny squeaks and mother's sighs of relief. Baby was beautiful and healthy at birth, sporting a head of long blond hair, calm and quiet with hardly any fussing.
And so we say, with pride in our eyes and love in our hearts...
Welcome to the world, Joseph Paul.

Joseph Paul Sprat
Born 8/9/00 at 4:50 a.m.

Weighing in at 6 lbs. 10 oz.
20 1/2 inches long.