by Ellen Gardner
"Where did you learn to write like that?" my mother asked after I sent her a copy of a magazine piece I'd written recently.
I thought about her question after we hung up. Didn't she know? From the time I could hold my head up, she read to me. And read to me and read to me until one day, she says, I as reading by myself. I was 4 years old. So began my lifelong love affair with books, magazines, newspapers - anything with print, including the back of a cereal box when that's the only thing handy.
Tony, a girlfriend of mine who's a writer, shared a story with me the day after her mother died. "She was never too tired to read to me, and we were never so broke that she couldn't afford to buy me the latest Nancy Drew."
So it was at our house, where books beckoned from every surface. I spent hours in my room, an indoor tree house with an old pin oak outside the window, devouring my latest treasure by leaf-dappled light. Dinner was like a comedic version of Scholar Quiz, and I read as much as possible so I could hold my own with my quick-witted family.
My mother prepared wonderful meals, set a beautiful table, and tried to maintain a certain level of decorum, but most nights it was a valiant, if vain, effort. Raucous laughter and one-upmanship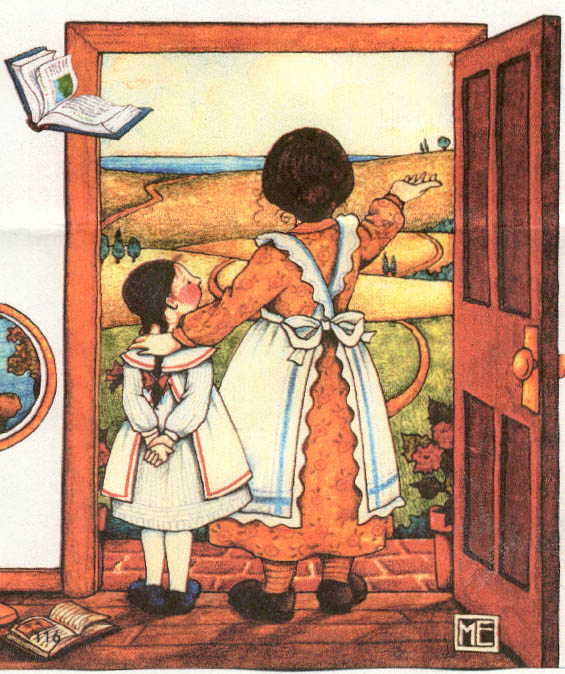 usually sent the finer social graces out the window.
I was only 5 or 6 when I began walking to the little library in Westerville, Ohio. I'd curl up in a chair with a pile of books and lose all track of time. When dinner was ready, Mom called Dane or Betty, the librarians, to send me home.
One December, my second-grade teacher, Mrs. Longhenry, handed out applications for a paperback book club. Knowing instantly what I wanted for Christmas, I raced down Hiawatha, up Russell, across Central and Parkview and home to Mariemont, planning my pitch along the way. I needn't have bothered. Mom agreed without hesitation.
Right before Christmas, while exploring my mother's closet in hopes of discovering presents, I found a box full of yellowed clippings from Mom's high school newspaper. Evidently, she'd written and illustrated a fashion column called Martha's Modes. If was something she'd never talked about, something I'd never known.
Abandoning my search for presents, I settled among the boots, coats, and umbrellas to read the articles and study her drawings. She was good! I was so enthralled that I entered Junior High determined to be a newspaper writer - just like my mother. Later, I learned that Mom had been offered a scholarship to a well-respected school, but a blind date with a handsome young man who looked, Mom said, "just like Jeffrey Hunter," too her life in another direction. She married the handsome young man, tucked away her clippings, and set about raising her family.
At my first newspaper job years ago, I asked the city editor what I could do to improve my writing. "Read." he said. "Read everything you can get your hands on."
But I already knew that. It was a lesson Tony learned, too.
Our mothers taught us.

Mary Engelbreit loves to read and, as you know, literacy is an important theme in her work. That's why she's joined forces with First Book, an organization whose mission is to provide new books to disadvantaged children in more than 250 communities across the country. For more information, please visit www.maryenglebreit.com .